Class 150 Flanged End Connections Sure Flow Class 150 ASME Flanged strainers are available in Carbon Steel and Stainless Steel. A Machined, tapered seat ensures a perfect fit for the removable, stainless steel screen. Size 2" and larger come complete with flanged blow-off cover, gasket & plug. 1 ½" and smaller come complete with solid threaded cover and gasket. May be installed in vertical or horizontal pipelines with blow-off connection at the lower end of the screen.

Construction :
Carbon Steel - Body, Cover – ASTM A216 Grade WCB Stainless Steel : Body, Cover – ASTM A351 Grade CF8M All screens are Stainless Steel
Must specify if for steam service - Sizes 14" and larger are available in cast steel only. Manufacturer reserves the right to modify dimensions, materials, or design. consult factory for certification.
Applications :
Pump protection
Flow meter protection
Valve and regulator protection
Protection of heat exchanger and refrigerating set
Protection of steam traps
Instrumentation and ancillary piping item protection
Features :
Easy Cleaning or replacing the element.
Compact size and low weight.
Low pressure drop across the filter.
Low installation and maintenance.
With Drain arrangement of request.
Adequate strength of element and housing.
Interchangeability of component with another of same type.
Specifications
| | |
| --- | --- |
| Material | Stainless Steel |
| Type | Y |
| Condition | New |
Additional Information
| | |
| --- | --- |
| Min. Order Quantity | 50 Piece(s) |
Graphical Images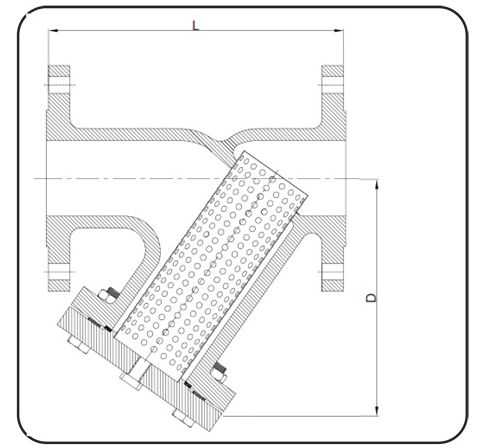 Y-Type Strainer Valve Exploded View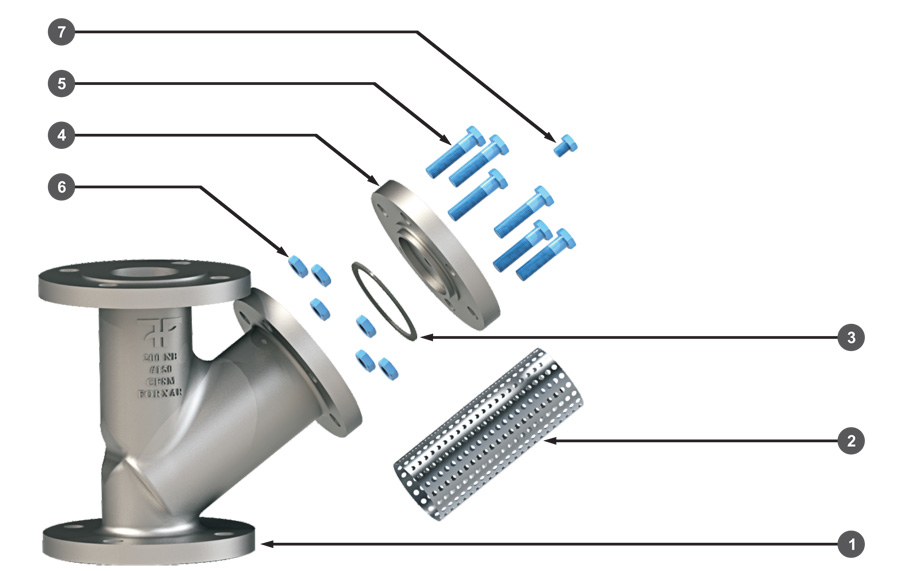 Dimension
Size
L
D
Blow-off NPT
Shipping Weight(LBS)
Inches
Prefix
1/2
50
6
2 9/16
1/4
9
3/4
75
7 1/2
3
1/4
11
1
100
7 3/8
3 3/8
1/4
15
11/2
150
7 1/4
4 3/4
1/2
18
2
200
8 5/8
4 7/8
1/2
30
2 1/2
250
10 1/4
7 1/2
3/4
44
3
300
11 5/8
7 3/4
1
60
4
400
14 1/4
9 1/8
11/2
96
5
500
17 5/8
11
2
150
6
600
18 5/8
13 3/8
2
174
8
800
24 3/8
14 5/8
2
264
10
1000
26
17 1/4
2
414
12
1200
30 3/8
21
2
615
14
1400
36
27 3/16
2
720
16
1600
46 9/16
30 1/4
2
956
18
1800
46
35 11/16
2
1130
20
2000
49 1/2
40
2
1500
24
2400
58 3/8
44 1/2
2
1990
Standard Screens
| | | |
| --- | --- | --- |
| Size | Standard | Opening |
| ½"- 1 ½" | 1/32" perf | 0.032" |
| 2" – 3" | 3/64" perf | 0.045" |
| 4" – 24" | 1/8" perf | 0.125" |
Operating Pressures and Temperatures
| | | | |
| --- | --- | --- | --- |
| Type | Size | psi @ Temp Steam | psi @ Temp WOG |
| YF 150 | ½"- 24" | 150 @ 358 oF | 285 @ 100 oF |
| YF150SS | ½"- 12" | 150 @ 358 oF | 275 @ 100 oF |

Download